Happy Tuesday! For some, a great day, because it is not Monday!
Look at the weather! Blue sky, no rain, not cold! Perfect to grill out this evening.
Don't forget to stop by QuickFill Propane to refill your propane gas tank to 20 lbs. for only $11.92. Refill is always less expensive than exchange!
Todays grillable is Summer Detox Salad. YUM, and no, it is not for our friends who drink too much. It is a low carb, low sodium dish that is a great light meal.
Avocados and cucumbers! tomatoes and bell peppers!
Grilled corn and romaine and little skewers of shrimp!
Herbs and salt and citrus!
Gang's all there, like all of it together in a bowl making dreams come true. It's too good to be real life, almost. Especially considering that not only is this a flavor-texture-color rainbow of delight, but it is healthy healthy healthy and will bring on your summer glow.
You know how summer is. Repeat nights of patio-lounging too late with friends, or the week-long trip up to the cabin, or any other warm weather situation wherein drinks, chips, and dips were all you ever really needed… until the moment you started to feel a little overdone on the salt and carbs, and then suddenly they weren't all you needed anymore.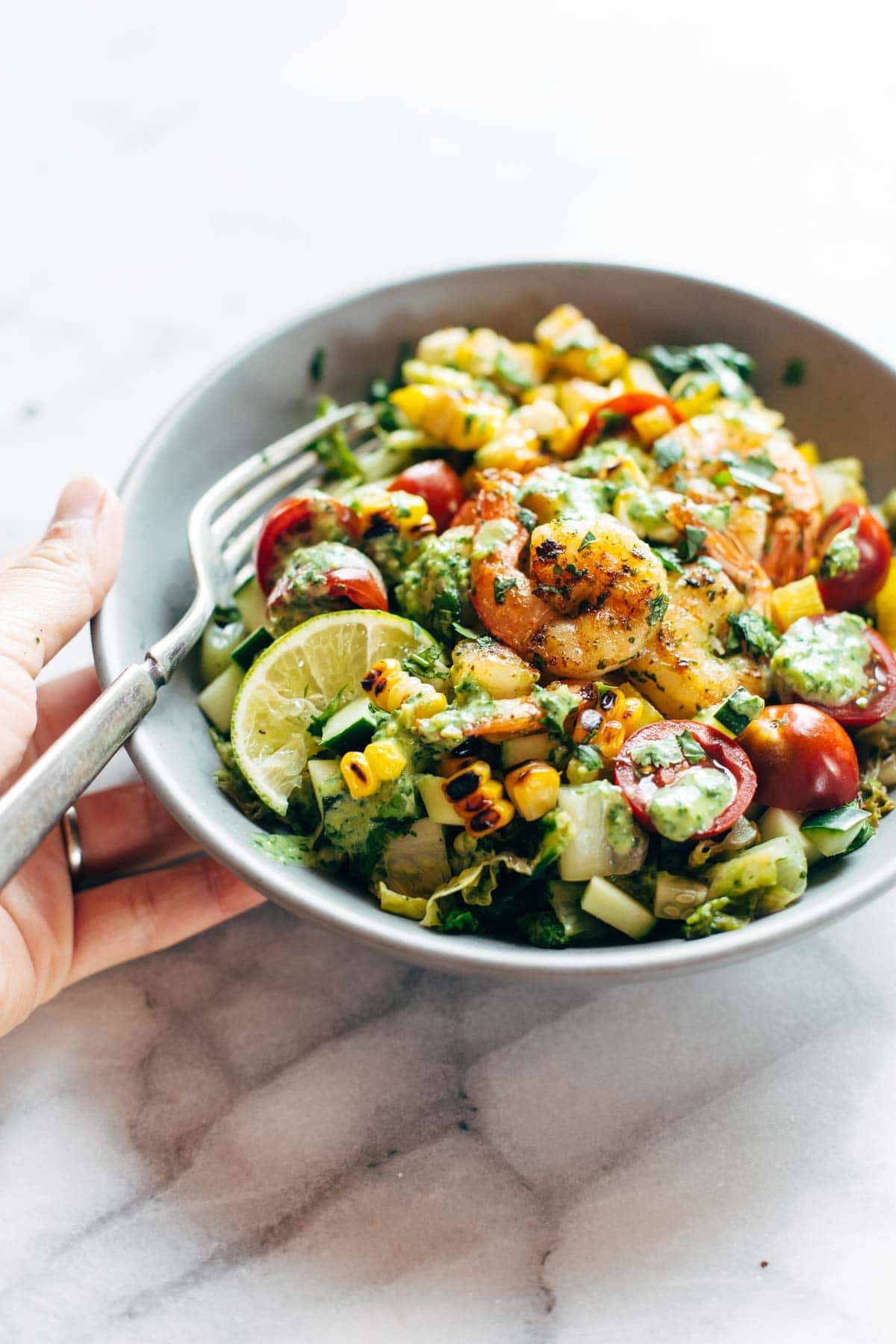 One thing though: even when you were ready to graduate from the Chips And Dip Lifestyle, you still needed food that tasted good. Always, guys. It always needs to taste good because we do not compromise on our core values. Promise me right now that you will not compromise.
So then you bought some good sturdy romaine hearts, and maybe shrimp or maybe chicken or maybe neither, and a bunch of other colorful veggies from the farmers market, and you opened up that grill.
Creamy avocado cilantro dressing with a jalapeño thrown in for good measure, a blend of grilled chopped food and raw chopped food, and you soaking in the glow of summer. This is June's finest hour.
Can we talk briefly about how uninspiring romaine lettuce is –> UNLESS GRILLED? I could literally just eat salted grilled lettuce straight for a meal. This sounds so shady, I know it, but my friends Alex and Sonja taught me the ways of grilled romaine a few summers ago and I haven't gone back since.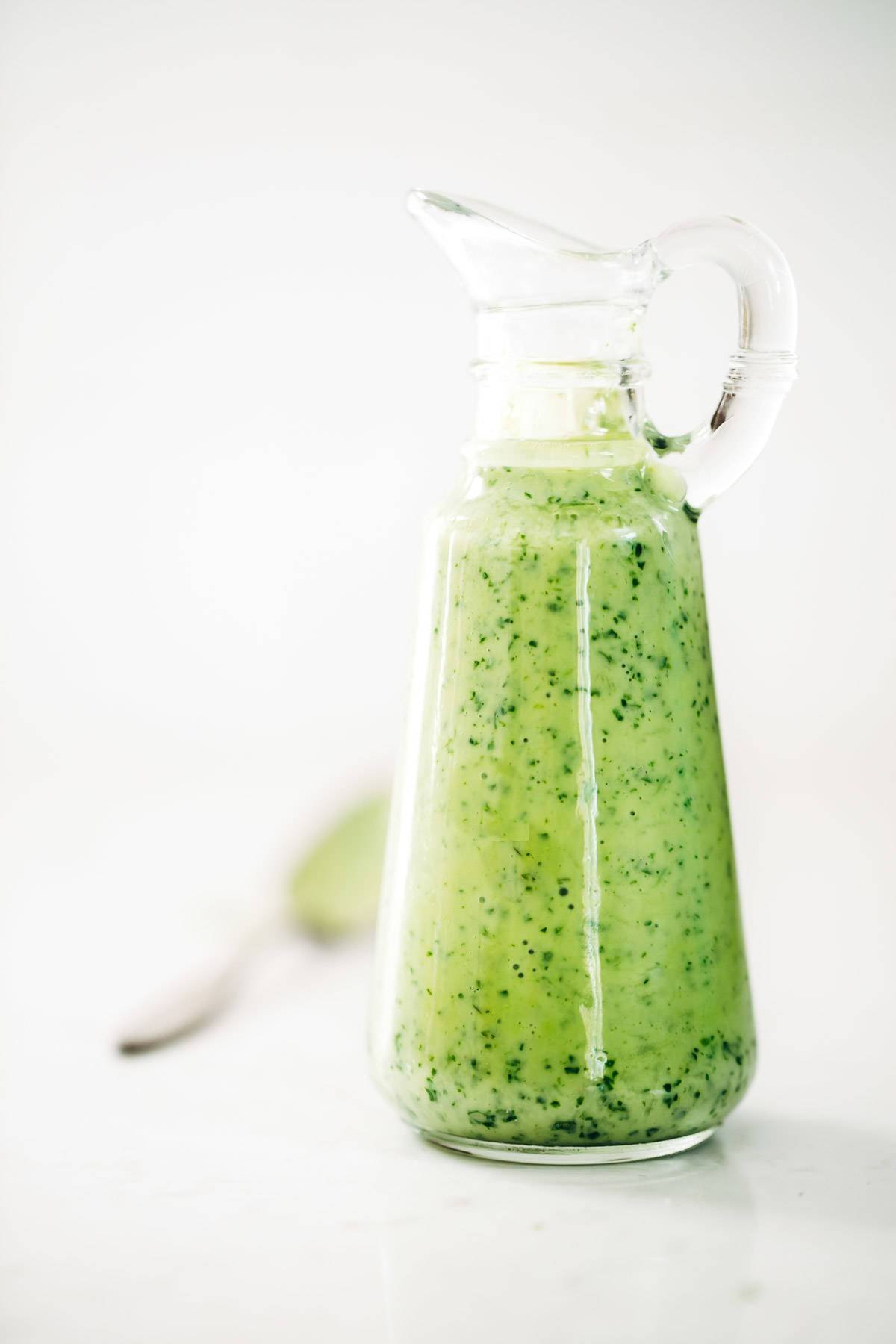 Also, just in case we needed another reason to make large vats of avocado cilantro dressing in the months of June, July, and August, we have it right here. Brushed on top of those little skewers of shrimp? UGH too perfect.
Truth, guys – we eat this on the reg for a good summer reset. And also for a chance for me to sit on the patio and have a white wine spritzer while supervising the grill situation. S/o to bae for his grill mastery.
Detox salad for the win – say hello to the Happiest Glow Food for the skin, body, and summer soul!
I mean, wasn't life just MADE for summer? Mwah, mwah, mwah.
Best Detox Grilled Chopped Salad
---
Prep Time:

10 mins

Cook Time:

25 mins

Yield:

4-6
Description
Glowing Grilled Summer Detox Salad: SUPER healthy meets OMG yummy! with grilled romaine, lime, tomato, cucumber, avocado, corn, shrimp, and cilantro dressing.
---
Ingredients
For The Grill:
3 ears fresh sweet corn, husked
4 hearts Romaine lettuce
1 lb. jumbo tail on shrimp (use more for a higher shrimp-to-veg ratio)
olive oil and salt
Other Salad Stuff:
2 cups chopped tomatoes
2 cups chopped cucumbers
2 cups chopped yellow bell pepper
---
Instructions
Salad Prep: Make the avocado cilantro dressing. Chop the tomatoes, cucumbers, and bell peppers. Set aside about 1/3 cup dressing to brush on the shrimp while grilling.
Grilling: Heat the grill to medium high heat. Brush the corn with olive oil and sprinkle with salt. Wrap in foil. Wash and dry the romaine, cut in half lengthwise keeping the stem intact, and brush with olive oil and salt. Thread the shrimp onto skewers for easy grilling. Brush with olive oil and salt. Grill times: corn (wrapped in foil) for 20-25 minutes, turning every 5 minutes // lettuce (directly on the grill) for about 5 minutes // shrimp (directly on the grill) for about 5 minutes. Brush the reserved dressing onto the shrimp as it grills for extra yummy flavor.
Assembly: Cut the stem off the romaine and loosely chop it up. Cut the corn off the cob. Toss everything together with dressing.